Journal Entry:
Wed Feb 20, 2013, 2:24 PM
Listening to: The hiss of the gas fire.
Reading: The Historian by Elizabeth Kostova
Watching: Ripper Street!
Time for another feature...
:thumb338195847:
:thumb312549700:
:thumb329270405:
:thumb346471570:

***********************
ASH TREES IN BIG TROUBLE!!
Trees are this worlds most precious and magical things. I have loved them with a passion since I was a child and have been a member of The Woodland Trust since I was 18. A few months ago I learned of a terrible fungal disease which are attacking our Ash trees...

Ash dieback is a serious disease that has killed ash trees across northern Europe. It has now been found in the UK and could devastate the landscape in the same way as Dutch Elm Disease.

Ash dieback is caused by a fungus, Chalara fraxinea. It causes leaf loss, lesions on the bark and dieback of the crown of the tree. The disease is spread by spores from the fruiting bodies of the fungus on dead leaves. Infected trees usually die.

Until recently, all cases of the disease were thought to be linked to imports of infected nursery stock used at tree planting sites. But signs have now been found in young and mature trees in the wider environment. This suggests it may also have arrived, and be spreading, by natural means – wind-borne spores, or on clothing, footwear or vehicles from Europe. Unfortunately this makes the disease very difficult to contain.

</b>
More information can be found here -
treedisease.co.uk/threats-to-o…
I urge anyone living in the UK (and Europe) to help The Woodland Trust in their fight against this disease by either joining the trust, or donating. Membership starts from as little as £2.75 per month -
www.woodlandtrust.org.uk/en/su…
Trees are threatened enough as it is, especially in the UK where our ancient woodlands are rapidly declining, so they really need all the love and help we can give them!
Some of my tree shots -
My forests and trees gallery -
forestina-fotos.deviantart.com…
*************************
My blog -
forestinasfairies.blogspot.co.…
which will basically consist of an inspirational quote/poem a day, accompanied by one of my photos.

The quote/pic idea was inspired by this beautiful blog -
paradoxicalvanity.tumblr.com/
*************************
My one of a kind (OOAK) fairie(s) for sale over at my EBay shop -
www.ebay.co.uk/sch/forestinasf…
Though my old sculpting website is still online, I've changed to a new website provider.
Forestina's Fairies
can now be found here -
forestinasfairies.weebly.com/
I also take commissions for fairies, mermaids, babies...whatever you fancy...I'm always up for a challenge!

***************************
Things I Especially lurve...
My husband, Immediate Music, TOPIARY, anything magical, dreamy or enchanting. Hugging trees. Mazes and labyrinths of every and any kind, cats (especially tabby and grey ones), mirrors (not in a vain sense but playing around with reflections...creating mirror worlds!), nature, Red Dwarf (especially Rimmer!), birds, squirrels, hedgehogs, cute rodents like mice, rats and voles, toadstools, TREES!!!, forests, woods, old keys, old pocket watches, waterfalls & streams, Lara Croft, Twin Peaks, surreal and fantasy art and manips, Escher's Relativity, J. Waterhouse, anything Austen related, Guy of Gisborne, Richard Armitage, wistful people, the Frouds, sunrays, sparkling water, dewdrops, dreamy poetry, North and South (R Armitage version), Jane Eyre (Toby Stephens version), cobwebs (minus spiders!), Halls of Doors Alice-in-Wonderland style, cute wooden bridges, watching movies especially - LABYRINTH, Legend & PICNIC AT HANGING ROCK, Julian Sands, tasteful outdoor nudes, pointe ballet shoes, ballet & dance, history, standing stones, Robins, blue and purple flowers, redheads, long hair, pre-Rathaelite art, drawing, sculpting, crafts, painting, writing, Mr Rochester, shabby-chic, patchwork things, unicorns, walking, yoga, caves and secret underground places, castles, ponds and water features, stately houses, ruins, Broken Sword (games), dragonflies, X-Men, Sherlock, Benedict Cumberbatch, Ricky Gervais, Wolverine, Queen's - Who Wants to Live Forever, spring & summer, being immature, secret gardens, Xena: Warrior Princess, ivy, abandoned overgrown places, really dark chocolate 70% +, hummus, picnics, DAYDREAMING!!!, photography, ALAN RICKMAN, Snape, Rufus Sewell, Kevin Smith (Ares), Frankie's - Power of Love;, Angelina Jolie, wistful beauties, quaint thatched cottages, English villages, hearty mugs of hot weak tea, baking cakes and biscuits, craig Ferguson, the mysteries of time, um...and I will add more as I think of them!

***********************
Tree Hugs...
Each hug won't be for me,
It'll be meant for a tree!!
*HUGS* TOTAL!
give UKTara more *HUGS*
Get hugs of your own
</small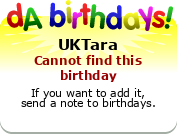 Watch